"Presenting new plays written for Shakespeare's staging conditions has been a goal of mine since we built the Blackfriars in 2001."
Link to the American Shakespeare Center:
www.americanshakespearecenter.com
The American Shakespeare Center in Shakespeare News:
Wilde, Shaw Join The Bard on 15–16 Calendar
Gala Honors Accomplishments From Blackfriars to Winedale
Birthplace Trust Road Trip Visits Blackfriars
Repertory Expands for 2014–15 Artistic Year
Also in Where's Will @?:
News and announcements from theaters
Links to theaters, festivals, and organizations
The Bard on The Boards: What's Playing Where
The Bard on The Boards: Where's Playing What
Web sites devoted to Shakespeare
More About Shakespeareances.com:
List of Shakespeare Productions
The Shakespeareances.com Top 40
Sponsorship and Advertising opportunities
Sign up for free weekly e-mail updates (safe, secure, spamless, and unshared)
Check out the guy behind this website at www.ericminton.com

Find additional Shakespeareances
on Facebook
American Shakespeare Center
Blackfriars Playhouse Premieres New Play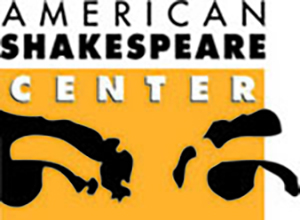 Long a center for staging the plays of William Shakespeare and his contemporaries in the play space and conditions common to Elizabethan and Jacobean theaters, as well as applying those conditions to more modern plays, the American Shakespeare Center (ASC) is mounting the world premiere of a new play at its Blackfriars Playhouse in Staunton, Virginia.
Shakespeare's Sister by Emma Whipday opens tomorrow night, joining the repertory of this year's Actors' Renaissance Season. Whipday of King's College London is joining the ASC actors and director Jim Warren in the rehearsal room.
Her play focuses on Judith Shakespeare, who has one ambition: to be a playwright, just like her famous brother Will. When her debt-ridden father forces her into an engagement, she runs away with the help of dashing actor Ned Alleyn, hoping to join her brother in London. But when Judith arrives in the plague-stricken capital, she finds her brother gone, Ned engaged to another, and her play refused. Judith befriends the women in a local brothel, and together they decide to stage her play in secret. But Elizabethan London is a dangerous place to perform an unlicensed play "On top of all that drama, this play is darn funny," Warren, ASC co-founder and artistic director, said in a press release.
The ASC uses Shakespeare's staging conditions as the norm—such as universal lighting, audience interaction, and incorporating musical performances into the theater experience—for its productions at the Blackfriars Playhouse, the world's only replica of Shakespeare's indoor theater. The Actors' Renaissance Season dives deeper into Shakespeare's staging conditions by also re-creating some of Shakespeare's rehearsal conditions. With few group rehearsals, the troupe of actors take the lead in choosing costumes from stock with the help of costume shop staff and often rehearse with just their cue scripts in hand rather than the whole play, as many scholars believe Shakespeare's troupe worked.
"We've been doing a Ren Season since 2005," Warren said, "and we've continued to experiment with the best ways to combine Shakespeare's rehearsal conditions with many modern conventions, like running a show for three months, which Shakespeare didn't do. Presenting new plays written for Shakespeare's staging conditions has been a goal of mine since we built the Blackfriars in 2001. So this year we're taking the Ren Season experiment to new levels by bringing in a new play to explore with its playwright. Even though we've been playing in our Ren Season creative laboratory for over 10 years, we're still searching for new ways to shake things up and delight our audiences."
Whipday's academic interest in Shakespeare's staging conditions has primed her to fit in at the ASC. She is a teaching fellow at King's College London and has published academic research on contemporary performance of early modern drama, staging closet drama, and early modern popular culture, as well as directing two productions of early modern plays as part of her research. Whipday borrows the character Judith Shakespeare from Virginia Woolf's A Room of One's Own but reimagines her story to reveal the "familial, societal, economic, and political pressures that shaped her world," Whipday said in the press release. "We know that some women did perform in Shakespeare's England, but the details of their performances are, for the most part, lost. Shakespeare's Sister brings to life the early modern theatrical world that fostered Shakespeare's talent, and in doing so, it imagines the stories of some of the women lost to history."
Shakespeare's Sister gets only 10 performances through the end of the Ren Season the first week of April. Tickets are available by calling 1-877-Much-Ado, online at AmericanShakespeareCenter.com, or at the Blackfriars Playhouse box office,10 South Market Street in Staunton. Premium tickets start at $46. Preshow lectures take place before the March 2 and March 15 performances. Talkbacks with the cast take place after each Thursday night performance. Residents of Staunton, Waynesboro, or Augusta County can take advantage of $18 local rush tickets on Wednesdays and Thursdays. Student, Senior, Military, and AAA discounts also are available.
February 23, 2017
If you have Shakespearean news to share, e-mail editorial@shakespeareances.com