In reprising the title role, Branagh will be making his New York stage debut with this production—hard to believe.
Link to Lincoln Center Theater:
Link to the Park Avenue Armory:
Also in Where's Will @?:
News and announcements from theaters
Links to theaters, festivals, and organizations
The Bard on The Boards: What's Playing Where
The Bard on The Boards: Where's Playing What
Web sites devoted to Shakespeare
More About Shakespeareances.com:
List of Shakespeare Productions
The Shakespeareances.com Top 40
Sponsorship and Advertising opportunities
Sign up for free weekly e-mail updates (safe, secure, spamless, and unshared)
Check out the guy behind this website at www.ericminton.com

Find additional Shakespeareances
on Facebook
Broadway
Branagh Follows Hawke in New York Macbeths

Ethan Hawke will have barely gotten his production of William Shakespeare's Macbeth off the boards before another big-name version of the brutal Scot appears on the horizon.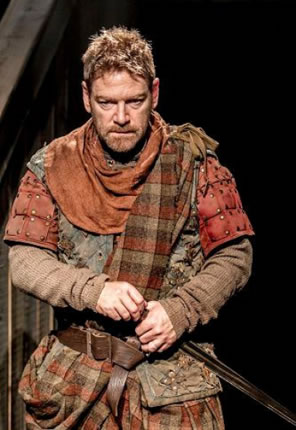 Kenneth Branagh's Macbeth. Photo by Johan Persson, NT Live.
Kenneth Branagh's staging of the play at the Manchester International Festival this summer will be playing at the Park Avenue Armory in New York next June. In reprising the title role, Branagh will be making his New York stage debut with this production—hard to believe. Alex Kingston of ER and Dr. Who fame will also return to the production as Lady Macbeth, likewise making her New York stage debut. Branagh co-directed this Macbeth with Tony Award–winning director and choreographer Rob Ashford. Branagh's longtime collaborator Patrick Doyle composed the music.
The original was staged in a deconsecrated church, with the audience seated in long pews along each side of the playing space. It will be reimagined for the Park Avenue Armory's 55,000-square-foot Drill Hall. The Royal Shakespeare Company re-created its new Stratford-upon-Avon theater in Drill Hall when it took up occupancy for a five-play repertoire in 2011.
Ethan Hawke's turn as Macbeth will start at the Lincoln Center Theater on Oct. 24, with the official opening set for Nov. 21. His Lady Macbeth will be English stage star Anne-Marie Duff making her American debut with this production. Jack O'Brien is directing.
Hawke has a number of Shakespeare credits in his resume, including playing Hotspur in an O'Brien-directed production of Henry IV at Lincoln Center in 2003, Autolycus in a Sam Mendes production of The Winter's Tale, and the title character in the Michael Almereyda film version of Hamlet. Hawke and Almereyda are currently working on a cinematic adaptation of Cymbeline. In the BBC-produced six-hour documentary Shakespeare Uncovered that aired on PBS in January, Hawke hosted the episode on Macbeth, noting that he had never played the role before but set out to learn as much as he could about the character from stage, literary, and historical experts as if he were preparing to play the part.
In Macbeth, all things come in threes, and Branagh's production will be third to hit New York in a single year. Alan Cumming's one-man performance, set in a criminal mental institution, recently closed on Broadway.
August 26, 2013
If you have Shakespearean news to share, e-mail editorial@shakespeareances.com