"CPS Shakespeare! develops students' literacy skills as it builds confidence, empowering our city's teens to approach life's challenges with bravery and self-assurance."
Link to the Chicago Shakespeare Theater:
Other articles on the Chicago Shakespeare Theater in Shakespeare News:
Book Collects Essays on CST's First 25 Years
Chicago Shakespeare Takes In the World
Gala Raises $1.1 Mil, Lauds Sondheim, Daley
Free Comedy of Errors Tours City Parks
Also in Where's Will @?:
News and announcements from theaters
Links to theaters, festivals, and organizations
The Bard on The Boards: What's Playing Where
The Bard on The Boards: Where's Playing What
Web sites devoted to Shakespeare
More About Shakespeareances.com:
List of Shakespeare Productions
The Shakespeareances.com Top 40
Sponsorship and Advertising opportunities
Sign up for free weekly e-mail updates (safe, secure, spamless, and unshared)
Check out the guy behind this website at www.ericminton.com

Find additional Shakespeareances
on Facebook
Chicago Shakespeare Theater
CST in Dream Partnership with Public Schools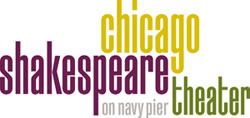 Chicago Shakespeare Theater (CST) presents CPS Shakespeare!, an arts-in-education program that engages Chicago Public Schools (CPS) students and teachers in creating an original Shakespeare production with CST theater and education professionals.
Working under the guidance of stage and film director Kirsten Kelly, the intergenerational ensemble completes an intensive five-week rehearsal process, culminating this year in performances of William Shakespeare's A Midsummer Night's Dream in Chicago Shakespeare Theater's Courtyard Theater on Friday, Nov. 7, at 4:30 p.m. and Saturday, Nov. 8, at 10:30 a.m. Each performance is followed by a 30-minute postshow discussion with the entire ensemble. Tickets are $5 and may be purchased by calling Chicago Shakespeare Theater's Box Office at 312-595-5600 or visiting www.chicagoshakes.com/cpsshakespeare.
"CPS Shakespeare! develops students' literacy skills as it builds confidence, empowering our city's teens to approach life's challenges with bravery and self-assurance," CPS Chief Executive Officer Barbara Byrd-Bennett said in a press release.
Developed by CST Director of Education and Communications Marilyn Halperin and Kelly, the CPS Shakespeare! program has guided CPS students and teachers for nine years in productions of Othello, Hamlet, The Taming of the Shrew, Macbeth, and Romeo and Juliet. Program staff also includes Assistant Director Sandra Shimon, a Prosser Career Academy English Department Chair and teacher who has participated in the program for the past seven years. New this year, ensemble members will incorporate live music into the performance under the music direction of Mather High School orchestra teacher and first-time CPS Shakespeare! participant Christian Smith.
The citywide ensemble for this year's CPS Shakespeare! includes 26 students and 9 teachers from 10 schools: Benito Juarez Community Academy; Curie Metropolitan High School; Hancock College Preparatory High School; Hubbard High School; Infinity Math, Science and Technology High School; Mather High School; Multicultural Academy of Scholarship High School; Noble Charter-DRW College Prep; Perspectives Charter—IIT Math and Science Academy; and Prosser Career Academy.
Joining Kelly and Shimon on the directing team, Matt Hawkins returns as the movement and voice director. The creative team for CPS Shakespeare! A Midsummer Night's Dream includes Costume Designer Robert S. Kuhn, Lighting Designer Cat Wilson, Sound Designer James Savage, Wig and Make-up Designer Melissa Veal, and Properties Master Cassandra Westover.
The President's Committee on the Arts and the Humanities has named CPS Shakespeare! a 2014 finalist in the prestigious National Arts and Humanities Youth Program Award, the nation's highest honor for out-of-school arts and humanities programs. This award recognizes and supports excellence in programs that engage students through learning, self-discovery, and achievement; it is overseen by Honorary Chairman First Lady Michelle Obama, CPS Shakespeare! joins fifty top programs across the country that span a wide spectrum of disciplines and reach.
The CPS Shakespeare! program and Director Kelly have received new visibility this year with the critical success of the documentary The Homestretch, which details the struggles of homelessness among Chicago teens. Conceived by Kelly upon first working with CPS Shakespeare! students experiencing homelessness, the film chronicles the journey of program participant Roque as he prepares to perform CPS Shakespeare! Hamlet in 2012. In addition to screenings around the international film festival circuit, the documentary is scheduled to be broadcast on PBS in April 2015.
October 31, 2014
If you have Shakespearean news to share, e-mail editorial@shakespeareances.com