"We wish to ask the question: Who are we willing to become and what are we willing to do in the name of love and duty?"
Link to For Love and Duty Players:
Also in Where's Will @?:
News and announcements from theaters
Links to theaters, festivals, and organizations
The Bard on The Boards: What's Playing Where
The Bard on The Boards: Where's Playing What
Web sites devoted to Shakespeare
More About Shakespeareances.com:
List of Shakespeare Productions
The Shakespeareances.com Top 40
Sponsorship and Advertising opportunities
Sign up for free weekly e-mail updates (safe, secure, spamless, and unshared)
Check out the guy behind this website at www.ericminton.com

Find additional Shakespeareances
on Facebook
For Love and Duty Players
America's Railways Setting for Winter's Tale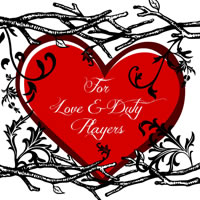 For Love and Duty Players, a theater company in New York City, looks to the nomadic world of America's freight-hopping culture as the setting for its upcoming production of William Shakespeare's The Winter's Tale at the WOW Café Theatre. As part of its mission to "spread awareness and help those in need as well as entertain," the company is asking patrons to donate back-to-school supplies at its shows as part of a partnership with New York Founding.
Directed by Molly Margaret Johnson, the production is scheduled to run Aug. 13–16 and 20–23. Curtain is at 8 p.m. except Sundays at 3 p.m.
For Love and Duty Players utilizes various forms of theatrical expression, including the use of movement work and physical expression, found text, and visual storytelling to explore "the deepest parts of our closest relationships," says a company press release. "We play with new works, as well as classical and published material. We wish to ignite discussion and provoke debate as well as entertain. We are drawn to stories which require truth, honesty, and risk taking. We wish to ask the question: Who are we willing to become and what are we willing to do in the name of love and duty?"
The company partners with a different charity for each of its productions, and for The Winter's Tale that partnership is with the New York Founding. Founded by the Sisters of Charity as home for abandoned children in 1869, New York Founding offers an expansive array of services for underserved children, families, and adults with developmental disabilities. The organization offers adoption and foster services, educational programs, young mother training programs, programs for adults with disabilities, and counseling services for abused children.
For Love and Duty Players is hosting a Back to School Drive at each of its performances and asks audiences to contribute in one of three ways:
Donate a fully stocked backpack for either an elementary student (crayons, pencils, notebook, and wide-rule paper) or a middle/high school student (pens, pencils, notebook, binder, and college-rule paper);
Donate a new graphing calculator TI-83 or TI-84 Model;
Donate gift cards for school supplies from Target, Staples, or Amazon.
WOW Café Theater, 59-61 E 4th St #4, New York NY 10003, is a women's theater collective in the East Village that promotes the empowerment of women through the performing arts.
For tickets to The Winter's Tale, click here.
August 10, 2015
If you have Shakespearean news to share, e-mail editorial@shakespeareances.com