The program is called "Shakespeare Allowed!"
Link to the Flagstaff Shakespeare Festival:
Also in Where's Will @?:
News and announcements from theaters
Links to theaters, festivals, and organizations
The Bard on The Boards: What's Playing Where
The Bard on The Boards: Where's Playing What
Web sites devoted to Shakespeare
More About Shakespeareances.com:
List of Shakespeare Productions
The Shakespeareances.com Top 40
Sponsorship and Advertising opportunities
Sign up for free weekly e-mail updates (safe, secure, spamless, and unshared)
Check out the guy behind this website at www.ericminton.com

Find additional Shakespeareances
on Facebook
Flagstaff Shakespeare Festival
Reading Shakespeare Aloud Allowed at Library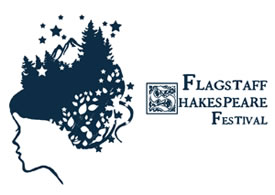 The Flagstaff Shakespeare Festival in Arizona has joined forces with the Flagstaff City–Coconino County Public Library to offer members of the public an opportunity to read a play by William Shakespeare or one of his contemporaries out loud with other Shakespeare fans once a month. The program is called "Shakespeare Allowed!"
In what the festival is calling "a fun and inviting environment," people can choose to participate in the reading or just listen. "Either way, hearing these plays read aloud will broaden your understanding of Shakespeare's words and offer additional insight into the play before it's performed live on stage by FlagShakes," says a company email.
People can bring their own copies of the play, or they can borrow one. Bright Side Bookshop and Bookmans Entertainment Exchange provide copies of the plays for these events.
The readings are free and open to the public at Flagstaff City–Coconino County Public Library, 300 W Aspen Ave, Flagstaff, Arizona 86001.
The Shakespeare Allowed! schedule for 2019 is as follows:
January 27: Antony and Cleopatra
February 24: King John
March 24: The Duchess of Malfi by John Webster
April 28: Much Ado About Nothing
May 26: Henry V
July 28: The Winter's Tale
August 25: The Merry Wives of Windsor
September 22: Richard II
October 27: Hamlet (first half)
November 24: Hamlet (second half)
January 26, 2019
If you have Shakespearean news to share, e-mail editorial@shakespeareances.com