This audition seminar comes one week before the Lab Theater's auditions for the 2013—2014 season.
Link to The Laboratory Theater of Florida:
www.laboratorytheaterflorida.com
Other stories on The Lab Theater in Shakespeare News:
Improv Pro Offers Workshops for Teens
Theater Offers Classes for Seniors, Spirituality
Christmas Break Camp, Winter Classes Set
Lab Rats Get a Dream Opportunity
Also in Where's Will @?:
News and announcements from theaters
Links to theaters, festivals, and organizations
The Bard on The Boards: What's Playing Where
The Bard on The Boards: Where's Playing What
Web sites devoted to Shakespeare
More About Shakespeareances.com:
List of Shakespeare Productions
The Shakespeareances.com Top 40
Sponsorship and Advertising opportunities
Sign up for free weekly e-mail updates (safe, secure, spamless, and unshared)
Check out the guy behind this website at www.ericminton.com

Find additional Shakespeareances
on Facebook
The Laboratory Theater of Florida
Theater Classes from Auditions to Improv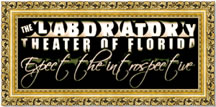 The Laboratory Theater of Florida in Ft. Myers is offering several theater classes for aspiring actors of all ages through the spring and into the summer.
Improv! starts April 17 and runs for eight weeks on Wednesdays, 6–7:30 p.m. This class for ages 15 and up encourages the performer to come out from behind the scripted words and react spontaneously. Instructor Lucy Harris, who trained at Chicago City Limits in New York City, will teach participants how to identify their obstacles, create believable relationships, fight effectively through conflict, make discoveries, and, most elusive of all, help get timing down. The fee is $90 for the eight-week course.
How to Get the Part is an all-day seminar June 8 from 9 a.m. to 3 p.m. for ages 14 and up. Learn what you need to audition confidently for community theaters and practice to get the part you want. In one day, you will work on one dramatic and one comedic monologue, you'll get a professional headshot, you'll work on role-playing your audition, you'll write and clean up your resume, you'll get makeup tips, and you'll work on making that great first impression. This is an opportunity for newcomers to theater and a great way for old-hatters to hone skills. Cost is $150.
This audition seminar comes one week before the Lab Theater's auditions for the 2013—2014 season, June 15 from 9 a.m.—noon and 12:30—4 p.m. at the theater, 1634 Woodford Ave, Fort Myers River District. For further information on the auditions, contact The Laboratory Theater of Florida, attn: Casting, PO Box 334, Fort Myers FL 33902.
Audition for Film and TV Workshop will be held on select Saturdays to be announced. As a painter prepares a canvas or a musician tunes his instrument, so must an actor prepare to create art. Based on her studies with Sonia Moore of The American Stanislavsky Theater, with Sharon Chatten of The Actors Studio in New York City, and her work as a professional actor in theater and film, Elizabeth D'Onofrio alongside her brother, actor Vincent D'Onofrio, will be conducting a four-hour Audition Workshop for Film & TV. This workshop will consist of a cold-reading technique, on-camera cold readings, critique, and monologue coaching. A local talent agent will speak about casting in South Florida. Price is $50 and requires a headshot and resume, plus a monologue if you have one. Sides for Cold Readings will be provided.
The next session of Intro to Acting on Tuesdays, 1–3 p.m., will start in May. The class is designed to challenge your current acting abilities and help to further develop and enhance your skills through training, practice, and learning to take direction effectively. Exercises will include drama games, scene work, monologues, and improvisation. The class is geared toward those who participate, taking into account their goal in taking the class, their abilities, and their experience level. Instructor Nykkie Rizley is a founding member of Lab Theater. For all ages, $90 for eight weeks.
The theater has also scheduled its summer camps where children can learn acting, stage management, lighting design, costume design and construction, text analysis, movement, voice, unarmed stage combat, improv, graphic design, stage makeup, Shakespeare, and history of Shakespeare's London. The camp for ages 7–13 runs June 3–7, 10–14, 17–21 and culminates in a performance of The 15-Minute Hamlet (a zany comedy) June 21 at 2 p.m. The camp for ages 10–15 runs July 8–12, 15–19, 22–26 and culminates with a performance of Zombie Macbeth July 26 at 1 p.m. and 7 p.m.
For more information on these programs and registration, contact education@laboratorytheaterflorida.com or visit http://laboratorytheaterflorida.com/Education__Outreach.html.
April 4, 2013
If you have Shakespearean news to share, e-mail editorial@shakespeareances.com