Like Shakespeare's famous woods, the retirement home is a world where the differences between dreams and reality aren't easy for some to distinguish.
Review of Still Dreaming On Screen:
Past the Wit of Man to Say What Dream It Was
Productions directed by Brody and Steinfeld On Stage:
Cymbeline: Six Actors, a Trunk, and Eagle-Eyed Clarity
Measure for Measure: Six Actors Measure Up to Play's Challenges
The Two Gentlemen of Verona: Turning Shakespeare's Early Work into A Mirror of Ourselves, Warts and All
Twelfth Night: Live Theater As Theater of Lives
Co-Directors Brody and Steinfeld in Interviews:
How Downsizing Leads To Supersizing Shakespeare: A Conversation with the founders of Fiasco Theater
Fiasco Theatre and the Shakespeareances Canon Project:
www.shakespeareances.com/ShakespeareCanon.html
Also in Where's Will @?:
News and announcements from theaters
Links to theaters, festivals, and organizations
The Bard on The Boards: What's Playing Where
The Bard on The Boards: Where's Playing What
Web sites devoted to Shakespeare
More About Shakespeareances.com:
List of Shakespeare Productions
The Shakespeareances.com Top 40
Sponsorship and Advertising opportunities
Sign up for free weekly e-mail updates (safe, secure, spamless, and unshared)
Check out the guy behind this website at www.ericminton.com

Find additional Shakespeareances
on Facebook
Still Dreaming
Documentary of Retirement Center's Staging
Of Midsummer Night's Dream Set for TV Debut
Still Dreaming, the feature documentary from Hank Rogerson and Jilann Spitzmiller (Shakespeare Behind Bars, Homeland), will have its public television premiere this weekend on more than 225 PBS stations and on The World Channel (http://worldchannel.org/schedule/localize/). The film is being distributed by American Public Television (APT).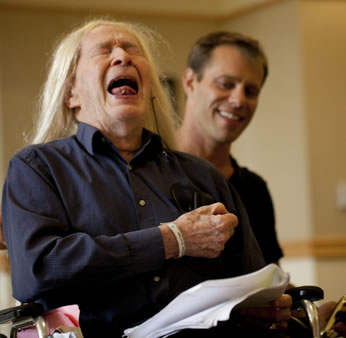 Bob Evans rehearses Flute playing Thisbe and stabbing herself in her heart as co-director Noah Brody watches in the Philomath Films documentary
Still Dreaming
about Lillian Booth Actors Home residents mounting a public production of
A Midsummer Night's Dream
. Photo by Genevieve Russell, Philomath Films.
A majority of PBS stations will air Still Dreaming on April 14 (check local listings).
Initial broadcast times on The World Channel are April 14 at 8 p.m. and midnight Eastern Time (5 p.m. and 9 p.m. Pacific) and April 16 at 10 a.m. Eastern Time (7 a.m. Pacific).
Still Dreaming chronicles a production of William Shakespeare's A Midsummer Night's Dreamput on by the residents of the The Lillian Booth Actor's Home, a community for retired entertainers and their family members just outside New York City. Ben Steinfeld and Noah Brody, co-founders and artistic directors of Fiasco Theatre in New York City, are hired to make this challenge a reality in a mere six weeks.
As the ensemble dives into an unpredictable but revelatory journey, the choice of play begins to resonate in unexpected and marvelous ways. Like Shakespeare's famous woods, the retirement home is a world where the differences between dreams and reality aren't easy for some to distinguish. Working with aging cast members who are struggling with ailments from Alzheimer's to near-blindness, Steinfeld and Brody find themselves in a world they don't quite understand—one in which they and the meaning of their art are being transformed. The film follows the production as opening night approaches and as tempers flare, health concerns abound, and disaster seem imminent. But as these seasoned entertainers forge ahead, they find that creativity is a magical force of renewal.
Featured in the film are some of Broadway's finest performers including Charlotte Fairchild (Mame, 42nd Street, and Damn Yankees) Aideen O'Kelly (Othello, A Life, and Philadelphia, Here I Come!), Bob Evans (Damn Yankees, Pajama Game, and Guys & Dolls), and Joan Stein (Sid Caesar's Your Show of Shows). Robert Morse (How to Succeed in Business, AMC's Mad Men) sings the end credits song, "Even I" with piano accompaniment by Grammy Award Winner Bill Cunliffe.
Shakespeareances.com reviewed a screening of Still Dreaming at the Folger Theatre in 2014 shortly after the film was completed (click here for that review).
"At the Lillian Booth, we discovered a group of people who have spent their whole lives following their dreams, some wildly successful, and some hardly at all," the film's Co-director Hank Rogerson says in a press release. "And here they are, retired, supposedly having given it all up. But what we witnessed during the rehearsal and performance process of Midsummer is that the huge talent of these former entertainers is still alive and well. What we captured was a reawakening, and it was truly profound and inspiring. We hope this film will challenge everyone to rethink what aging can be—a time of enrichment and joy rather than decline."
Rogerson and Spitzmiller are multiaward winning filmmakers whose work has appeared on National PBS, Sundance Channel, BBC, Starz/Encore, Aljazeera, and Canal +.
For more information on the film and to see the trailer, go to https://www.stilldreamingmovie.com.
Eric Minton
April 11, 2018
If you have Shakespearean news to share, e-mail editorial@shakespeareances.com