"While many people know of him through TV and movies, many may not be familiar with his vast experience performing Shakespeare."
Link for the Orlando Shakespeare Theater:
More from Orlando Shakes in Shakespeare News:
Orlando Shakes Kicks Off Season with Gala
Orlando Shakes Unveils 11-Production Season
Friar Laurence Heads to Court in Mock Trial
Also in Where's Will @?:
News and announcements from theaters
Links to theaters, festivals, and organizations
The Bard on The Boards: What's Playing Where
The Bard on The Boards: Where's Playing What
Web sites devoted to Shakespeare
More About Shakespeareances.com:
List of Shakespeare Productions
The Shakespeareances.com Top 40
Sponsorship and Advertising opportunities
Sign up for free weekly e-mail updates (safe, secure, spamless, and unshared)
Check out the guy behind this website at www.ericminton.com

Find additional Shakespeareances
on Facebook
Orlando Shakespeare Theater
Patrick Stewart Headlines Special Evening
The Ides of March brings a tide of Shakespearean knowledge and theatrical experience to central Florida with "An Evening with Sir Patrick Stewart" at the Orlando Shakespeare Theater in Partnership with UCF. The film, television, and stage actor will discuss his love of Shakespeare and share stories from his illustrious career in an Inside the Actor's Studio format hosted by Orlando Shakes Artistic Director Jim Helsinge. After the discussion, audience members will get the opportunity to participate in a brief question and answer session.
The event begins at 8 p.m., March 15, at the Lowndes Shakespeare Center. Tickets go on sale to the general public Tuesday, March 5, at noon.
Best known to American audiences for his roles on Star Trek and the X-Men film series, Stewart also has an impressive resume in the theatrical world. During his association with the Royal Shakespeare Company, he acted in more than 50 shows, including King John, The Merchant of Venice, Henry IV, Julius Caesar, and Titus Andronicus. His West End and Broadway performances include A Life in the Theatre, A Midsummer Night's Dream, Who's Afraid of Virginia Wolf?, The Ride Down Mt. Morgan, The Master Builder, The Tempest, and a one-man version of A Christmas Carol.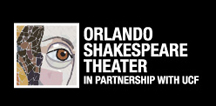 "We're delighted to have Sir Patrick here at Orlando Shakes," Helsinger said in a press release. "While many people know of him through TV and movies, many may not be familiar with his vast experience performing Shakespeare. It will be thrilling to spend an evening discussing his life in the theater."
Over the years, Stewart has been nominated for many awards. In the West End, he earned three Olivier Awards for his work in Hamlet, Antony and Cleopatra, and A Christmas Carol. In New York, he has won a Drama Desk Award for A Christmas Carol and was nominated for a Tony Award for Best Actor in a Play in 2008 for the title role in Macbeth. In addition, Stewart has a Grammy Award, four Primetime Emmy nominations, and two Golden Globe nods.
In television, he portrayed Jean-Luc Picard in Star Trek: The Next Generation. He also appeared in Extras, The Lion in Winter, King of Texas, A Christmas Carol, and Moby Dick. Along with his turn as Professor Xavier in X-Men, Stewart has movie credits that include Dune, Conspiracy Theory, Robin Hood: Men in Tights, and LA Story. As a voiceover artist, he has lent his voice to Family Guy, The Prince of Egypt, Ted, American Dad, Ice Age, and the upcoming Dorothy of Oz.
Recently, Stewart starred in a revival of the 1973 play Bingo at the Young Vic in London. His upcoming works includes teaming up with Sir Ian McKellen for Waiting for Godot and No Man's Land, playing in repertory on Broadway this fall.
The performance will be in Orlando Shakespeare Theater's Margeson Theater at the John & Rita Lowndes Shakespeare Center, 812 East Rollins Street, Orlando FL 32803. No photos are allowed and no autograph requests will be granted during the show. All proceeds benefit Orlando Shakespeare Theater programming.
Ticket prices range from $50–$100. Tickets are available by calling 407-447-1700, online at www.orlandoshakes.org, or in person at the box office located inside the Lowndes Shakespeare Center in Orlando's Loch Haven Cultural Park.
Because of Sir Patrick's appearance, the scheduled Sense and Sensibility performance on March 15 has been canceled. Ticketholders will be contacted by the box office to discuss alternative ticketing options. The Odyssey on March 15 will go on as scheduled.
March 3, 2013
If you have Shakespearean news to share, e-mail editorial@shakespeareances.com