Orlando Shakespeare Theater
West Side Story Inspires Outreach Programs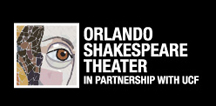 From providing the theme for this Sunday's annual gala to a series of community outreach efforts, the Orlando Shakespeare Theater in Partnership with the University of Central Florida's (UCF) just-opened production of West Side Story is gaining extra mileage during its run through October 9 at the company's Margeson Theater.
Orlando Shakes's own production of the Jerome Robbins–conceived musical, with book by Arthur Laurents, music by Leonard Bernstein, and lyrics by Stephen Sondheim kicks off the company's 28th season. Directed by Orlando Shakes Artistic Director Jim Helsinger, the production has cast international theater talent as well as local Orlando favorites and will feature a live orchestra.
Following select Saturday matinees of West Side Story, Orlando Shakes will present "Dialogues on Diversity," a succession of panel discussions featuring local Hispanic community leaders. Panelists will address questions of diversity, tolerance, and cultural identity in the Central Florida community while encouraging audience members to join the conversation. Current panelists include Carlos Carbonell, CEO of Echo Interaction Group; Jared Nordlund, National Council of LaRaza; and Diana Bolivar, Hispanic Chamber of Commerce of Metro Orlando. Additional community leaders and dialogue panels will be announced at a later date.
"With themes of prejudice against Latinos, forbidden mixed-race relationships, and gang and gun violence, West Side Story is just as relevant in today's society as it was when it first opened on Broadway 59 years ago," Helsinger said in a company press release. "We've planned these additional special events to give our community an outlet to voice their feelings about these important topics that affect many of their lives on a daily basis."
In addition to its "Dialogues on Diversity" series, Orlando Shakes will pay tribute to the victims of the Pulse nightclub shooting with a special "Angel Action Wings for Orlando" display in the theater lobby. The display will rotate to honor the 49 Pulse victims during performances. The individuals highlighted in the lobby during the performance will also be featured in the curtain speech.
The "Angel Action Wings for Orlando" were originally constructed in Orlando Shakes' costume shop by volunteers to shield mourners from antigay protesters during the Pulse funerals. They have since been used at the "Beautiful Together" benefit concert held at the Dr. Phillips Center and at other national community events. "Orlando's Angel Wings" have become an inspiring image of love and unity in our community," said Helsinger. "We are honored to be able to use them to pay tribute to those who lost their lives because they chose to love openly and wholly. In the end, love always wins."
"The themes of West Side Story resonate with a number of societal issues the City Beautiful has been confronted with recently. Tolerance, acceptance, and inclusiveness are some of the issues this beloved story touches on," Maritza Martinez, associate vice president of Community Relations at the University of Central Florida, said in the press release. "We would like to use West Side Story as a tool to either keep conversations around these topics going or, better yet, spark open dialogue around these topics beyond the performance experience."
The production will have a much lighter role in the company's annual gala with its "New York, New York" theme on Sunday, Sept. 18, at 5 p.m. The glittering evening will feature a stationed dinner on the "shining streets of New York" inside the Lowndes Shakespeare Center, a silent auction and raffle, and an exclusive one-night-only cabaret featuring the cast of West Side Story. The UCF Jazz Chamber Group featuring Jeff Rupert will also perform.
"This year's West Side Story–inspired Gala transports guests to New York," Director of Development Dana Nichols said in a press release. "Guests will enjoy decadent tastings and live entertainment while supporting the theater's mission to provide the community with innovative, inclusive educational programming."
Orlando Shakespeare Theater is introducing a new raffle to this year's Gala. Guests will have the chance to win $10,000, a staycation weekend at the Four Seasons Resort Orlando at Walt Disney World Resort, or $1,000 cash prize. All raffle winners will be drawn during the evening's events on the Margeson stage, but winners need not be present to win. A limited number of tickets are available for a suggested donation of $100.
Gala tasting partners include Arthur's Catering, Barnie's CoffeeKitchen, Bubbalou's Bodacious BBQ, Capa at Four Seasons Resort Orlando, City Beverages, Firebirds Grill, Hillstone Restaurant Group, Hyatt Regency Orlando International Airport Catering and Events, Kelly's Homemade Ice Cream, King Bao, NOVA, P Is for Pie, Rosen Hotels and Resorts, Seasons 52, Sky Candy Orlando, Winter Park Distilling Company, and Wondermade Marshmallows.
Orlando Shakespeare Theater's 28th Season Gala: New York, New York is made possible through the support of presenting sponsor Lowndes, Drosdick, Doster, Kantor & Reed, P.A. Additional support provided by raffle sponsor, Four Seasons Resort Orlando at Walt Disney World Resort, and paddle raise sponsor Burr and Forman.
For tickets to West Side Story and the gala, call the Box Office at 407-447-1700 ext. 1 visiting www.orlandoshakes.org, or in person at the John and Rita Lowndes Shakespeare Center, 812 East Rollins Street, Orlando FL 32803).
September 14, 2016
If you have Shakespearean news to share, e-mail editorial@shakespeareances.com