Oregon Shakespeare Festival
OSF Wins Grant for Playwright Residency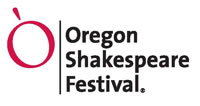 The Oregon Shakespeare Festival in Ashland is among a select number of national theaters to receive playwright-in-residence grants developed by the Performing Arts Program at the Andrew W. Mellon Foundation.
The grant of $303,000 will support American playwright Luis Alfaro for a three-year residency. Alfaro is OSF's first resident playwright, and he will be integrated into every aspect of OSF's life.
He will collaborate with OSF to create a three-play cycle about the Latino immigrant experience in the United States. He will serve as dramaturg on at least one production over each of the three years, starting with Tanya Saracho's world premiere, The Tenth Muse, opening in July 2013. He also will be an integral part of OSF's leadership team and assist OSF in connecting with local Latino communities and strengthening outreach efforts in the Rogue Valley.
Alfaro worked with OSF Artistic Director Bill Rauch at Cornerstone Theater, Los Angeles, Rauch's former artistic home, and Alfaro also wrote Breakfast, Lunch and Dinner, which was produced at OSF in 2008.
"Luis' appointment as OSF's first-ever Resident Playwright is a major event in the life of the Oregon Shakespeare Festival," Rauch said in a press release. "OSF's founder, Angus Bowmer, inspired by the example of William Shakespeare, first articulated the dream of a resident writer many decades ago. The idea has gathered momentum as the Festival has increased its commissioning and production of new work in the 21st century. Luis has a vital, poetic, adventurous, and ambitious voice as a dramatist. He is also one of the most charismatic ambassadors for the art form of live theater of anyone I have ever met. His impact on our company, our audiences, and our community will be immeasurable. I am especially grateful for the Mellon Foundation's unflagging leadership in our field for this residency and many others that put writers at the center of theater companies—where they belong."
The press release quoted Alfaro as saying, "For years I have longed for the experience to work with a theater that can provide a space where I can dream, write, and create, and one that has the resources that can take advantage of my own desires to connect community in ways that go beyond building audiences and are essential to how we make our work. When it happens with colleagues and friends, like Artistic Director Bill Rauch, who share in your vision of the theater, then there is alchemy in these moments. I am so grateful to the Mellon Foundation for the generosity and innovation in its thinking about these relationships, and I am so proud to be one of the inaugural playwrights.
"Working in the theater can sometimes feel like the most ephemeral experience. One writes in an interior solitary of creativity, and then, if we are lucky, we get our work produced and off we go to the next adventure. But what if we playwrights could stick around and help define the life of the theaters we work in? This is immensely exciting because this is an old and a new idea at the same time. How exciting to be part of a company and imagine what a playwright's creativity might bring to the mix. I am honored to be part of one of the most important theaters in the U.S. to help in such dreaming."
The Oregon Shakespeare Festival continues to expand its ongoing commitment to the development and production of new work. Its major initiative "American Revolutions: the United States History Cycle," launched in 2008, looks at moments of change in America's past, helping to establish a shared understanding of our national identity and illuminate the best paths for our nation's future. To date, OSF has commissioned 21 projects for American Revolutions.
Alfaro has been working in theater, performance art, poetry, and journalism since 1982. A multidisciplined artist, he also works as a director, educator, curator, producer, and community organizer. A Chicano born and raised in downtown Los Angeles, he is the recipient of a John D. and Catherine T. MacArthur Foundation fellowship, popularly known as a "genius grant," awarded to people who have demonstrated expertise and exceptional creativity in their respective fields. He is the only playwright to receive two Kennedy Center Fund for New American Play awards in the same year (2002), and is the 2012 Joyce Foundation Award Fellow.
His plays and performances have been seen throughout the United States and Europe. This year, they include his Medea adaptation, Bruja (Magic Theatre, San Francisco) which was named one the top 10 productions of the year by the San Francisco Chronicle and is nominated for the American Theatre Critics Association Steinberg New Play Award. His recent productions of Oedipus El Rey (Victory Gardens Theatre in Chicago, Magic Theatre in San Francisco, and Miracle Theatre in Portland) earned the Bay Area Glickman Prize for production of the year, and the Huffington Post, Chicago Sun Times, Chicago Reader, and Chicago Tribune's top productions of the year lists.
Alfaro was previously a resident artist at the Mark Taper Forum/Center Theatre Group for 10 years where he served as director of new play development and co-director of the Taper's Latino Theatre Initiative from 1995–2003. He has taught throughout the country, including the majority of University of California and California State institutions. He is currently an assistant professor at the University of Southern California in the MFA Dramatic Writing Program. Previously he taught at the California Institute of the Arts.
The Playwright Residency is one of 14 grants awarded to producing theaters by the Performing Arts Program at the Andrew W. Mellon Foundation. Beginning this month, the residencies provide three years of salary, benefits, and a flexible research and development fund for American playwrights at selected theaters. The initiative has grown out of Mellon's longstanding commitment, across disciplines, to provide institutional support to generative artists and to improve both developmental processes and prospects for the continued life of new works.
Mellon outlines the goals of the residencies as follows:
1. To advance the state of playwrights in the American theater by providing them with space, time, and resources;
2. To influence the working environment of theaters by embedding playwrights in them;
3. To help the field (including other funders) understand the value of embedding playwrights in theaters;
4. To work toward an ideal of having writers become salaried employees of all theaters.
January 15, 2013
If you have Shakespearean news to share, e-mail editorial@shakespeareances.com