The second series continues the history with Shakespeare's earlier Henry cycle, Henry VI (the three parts combined into two) and Richard III, with, respectively, Tom Sturridge and Benedict Cumberbatch in the title roles.
Link to the Public Broadcasting Service
Reviews of the first series On Screen:
Richard II: This Crown Jewel Is a Hollow Richard
Henry IV, Part One: Irons' Henry IV Reigns O'er His Own Play
Henry IV, Part Two: Falstaff Diminished, This Play Is Built on Irons
Henry V: The Crown Comes Full Circle
PBS in Shakespeare News :
Donmar's Caesar Makes U.S. Broadcast Debut
Shakespeare Uncovered Documentary Series
Returns for Season of Six New Episodes
Great Performances Schedules Star-Studded
Richard II–Henry V Cycle for Broadcast
Six-film 'Shakespeare Uncovered' SeriesDigs Deep into Bard's Most Famous Plays
Also in Where's Will @?:
News and announcements from theaters
Links to theaters, festivals, and organizations
The Bard on The Boards: What's Playing Where
The Bard on The Boards: Where's Playing What
Web sites devoted to Shakespeare
More About Shakespeareances.com:
List of Shakespeare Productions
The Shakespeareances.com Top 40
Sponsorship and Advertising opportunities
Sign up for free weekly e-mail updates (safe, secure, spamless, and unshared)
Check out the guy behind this website at www.ericminton.com

Find additional Shakespeareances
on Facebook
Public Broadcasting Service
Second Set of Hollow Crown Hits US Airwaves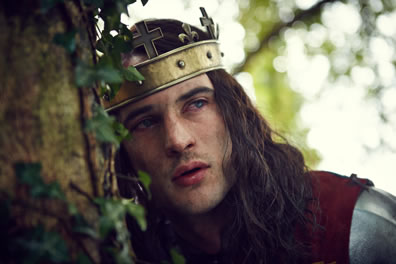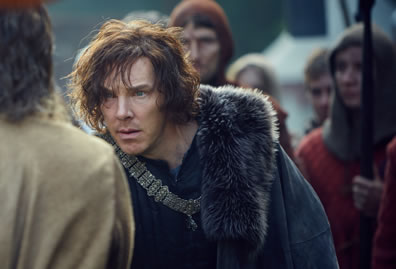 Tom Sturridge as Henry VI (top) and Benedict Cumberbatch as Richard III in The Hollow Crown: The Wars of the Roses airing on PBS. Photos by Robert Viglasky, WNET THIRTEEN.
The Hollow Crown series, BBC's cinematic take on William Shakespeare's history plays, returns to the American airwaves this Sunday, Dec. 11, with the first installment of the three-part The Hollow Crown: The Wars of the Roses. It is airing on WNET THIRTEEN's Great Performances program at 9 p.m. on three successive Sundays, concluding Christmas night (check local listings).
The first series of The Hollow Crown, aired in 2013, covered Shakespeare's second compositional Henriad cycle: Richard II, Henry IV, Parts One and Two, and Henry V with, respectively, Ben Wishaw, Jeremy Irons, and Tom Hiddleston in the title roles. The second series continues the history with Shakespeare's earlier Henry cycle, Henry VI (the three parts combined into two) and Richard III, with, respectively, Tom Sturridge and Benedict Cumberbatch in the title roles.
The series, a Neal Street coproduction with Carnival/NBCUniversal and THIRTEEN for BBC Two, was filmed in locations around the UK. Award-winning director Dominic Cooke (former artistic director of The Royal Court theatre) makes his TV directorial debut with the three films.
As with the first series, The Wars of the Roses casts include some of England's mightiest acting talents, including Sophie Okonedo as Queen Margaret; Hugh Bonneville as Humphrey, Duke of Gloucester; Judi Dench as Cecily, Duchess of York; Sally Hawkins as Eleanor, Duchess of Gloucester; Keeley Hawes as Queen Elizabeth; Michael Gambon as Mortimer; Philip Glenister as Talbot; Andrew Scott as King Louis; Jason Watkins as Suffolk; Samuel West as the Bishop of Winchester; Stanley Townsend as Warwick; Adrian Dunbar as Plantagenet; Geoffrey Streatfeild as Edward IV; Ben Daniels as Buckingham; Ben Miles as Somerset; Sam Troughton as George, Duke of Clarence; Stuart McQuarrie as Vernon; Anton Lesser as Exeter; Kyle Soller as Clifford; Phoebe Fox as Anne; James Fleet as Hastings; and Lucy Robinson as Young Cecily.
"Seven years after we very first suggested the idea to the BBC, yet again we have assembled an amazing cast under the direction of the hugely talented Dominic Cooke," Sam Mendes, executive producer for Neal Street Productions, said in a press release. "I'm very excited indeed to see them all bring the rest of this astonishing story to life."
In addition to Mendes, executive producers are Pippa Harris, Nicolas Brown, Gareth Neame, and David Horn. The producer is Rupert Ryle-Hodges. The Hollow Crown was commissioned by Ben Stephenson, former Controller BBC Drama commissioning.
Ben Power (associate director of The National Theatre), who previously wrote the screenplays for Richard II and Henry V, has adapted the cycle for the screen.
The Hollow Crown: The Wars of The Roses is available from Universal Pictures Home Entertainment on both Blu-ray and DVD, and includes deleted scenes and a making-of featurette.
Great Performances is a production of THIRTEEN Productions LLC for WNET. Throughout its 40-year history on public television, Great Performances has provided viewers across the country a showcase of the best in all genres of the performing arts, serving as America's most prestigious and enduring broadcaster of cultural programming. Bill O'Donnell is series producer; David Horn is executive producer.
Major funding for Great Performances is provided by the Irene Diamond Fund, the Anna-Maria and Stephen Kellen Arts Fund, the Joseph & Robert Cornell Memorial Foundation, the LuEsther T. Mertz Charitable Trust, Rosalind P. Walter, the Agnes Varis Trust, the Starr Foundation, the Kate W. Cassidy Foundation, Ellen and James S. Marcus, the Philip and Janice Levin Foundation, the Lenore Hecht Foundation, the Abra Prentice Foundation, Jody and John Arnhold, and PBS.
WNET is America's flagship PBS station and parent company of THIRTEEN and WLIW21. WNET also operates NJTV, the statewide public media network in New Jersey.
Neal Street Productions was formed in 2003 by Sam Mendes, Pippa Harris, and Caro Newling; Nicolas Brown joined in 2013 to work across the film and TV portfolio. The company has been successful in film, theatre, and television with hit movies including Revolutionary Road, Jarhead, and Starter for 10.
Carnival Films is a division of NBCUniversal International and is the UK's largest drama specialist. The company is responsible for the global television phenomenon Downton Abbey and numerous primetime series.
December 10, 2016
If you have Shakespearean news to share, e-mail editorial@shakespeareances.com