Since 2010, STC has recognized two actors per season who have demonstrated exceptional skill and technique on the stage.
Link to the Shakespeare Theatre Company:
The productions featuring these two actors On Stage:
The Heir Apparent—No Heir to The Liar, but an Heir With King-Size Laughs and a Little Pig
The Servant of Two Masters—Feature-Length Animation with Real Actors
Other STC articles in News & Announcements:
F. Murray Abraham Selected for Annual Award
Happy Hours Join Lunch Hours Program
Costumes, Props Go on Sale to Public
STC Partners with School As Conservatory
Also in Where's Will @?:
News and announcements from theaters
Links to theaters, festivals, and organizations
The Bard on The Boards: What's Playing Where
The Bard on The Boards: Where's Playing What
Web sites devoted to Shakespeare
More About Shakespeareances.com:
List of Shakespeare Productions
The Shakespeareances.com Top 40
Sponsorship and Advertising opportunities
Sign up for free weekly e-mail updates (safe, secure, spamless, and unshared)
Check out the guy behind this website at www.ericminton.com

Find additional Shakespeareances
on Facebook
Shakespeare Theatre Company
Award Honors Actors from Last Season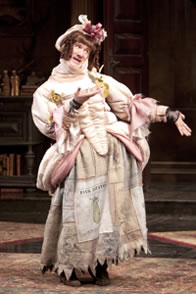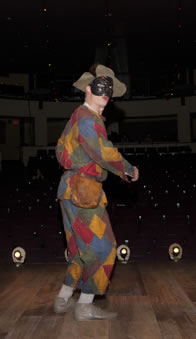 Carson Elrod as Crispin disguised as the pig farmer neice in The Heir Apparent, top, and Steven Epp as Truffaldino in The Servant of Two Masters. Photos courtesy of the Shakespeare Theatre Company.
The Shakespeare Theatre Company (STC) in Washington, D.C., awarded its annual Emery Battis Acting Award to Carson Elrod and Steven Epp.
Since 2010, STC has recognized two actors per season who have demonstrated exceptional skill and technique on the stage. Elrod and Epp were lauded for their performances as Crispin in The Heir Apparent and Truffaldino in The Servant of Two Masters, respectively.
This award, named in honor of STC's longtime friend and affiliated artist, the late Emery Battis, is given based on the recommendation of a panel of 11 individuals, which includes theater professionals, local critics, and STC supporters. All performers and shows within STC's mainstage season are eligible for the award, which comes with a $5,000 cash prize for each awardee, made possible by the support of a generous donor who wishes to remain anonymous.
Panelists nominate two actors each year: one emerging performer who has the potential to make extraordinary contributions to the field of classical acting, and one established performer, who has given one of the season's most impressive performances and whose commitment to not only classical theatre, but also not-for-profit theatre, is unmatched.
Carson Elrod made his Shakespeare Theatre Company debut as the cunning young manservant Crispin in The Heir Apparent. Elrod was recently seen in New York Shakespeare in the Park's Measure for Measure and All's Well That Ends Well. His Broadway credits include Reckless and Noises Off, and he has numerous New York credits including Peter and the Starcatcher, Based on a Totally True Story, Cavedweller, Waiting for Godot, and Monkey in the Middle. His long list of regional theatre credits includes The Wake, How the Other Half Loves, A Flea in Her Ear, Oliver Twist, The Importance of Being Earnest, and The Merry Wives of Windsor. Television and film audiences will recognize Elrod from his roles on 30 Rock, Law & Order: Criminal Intent, Medium, Wedding Crashers, Married to the Kellys, and Kissing Jessica Stein.
Steven Epp performed the role of Truffaldino, the crafty servant in STC's production of The Servant of Two Masters. Epp was the co-Artistic Director at Theatre de la Jeune Lune, winner of the 2005 Tony Award for Outstanding Regional Theatre, from 1983–2008. While there, he performed the title roles in Tartuffe, Crusoe, Hamlet, Gulliver: A Swift Journey, and many others. Other theater credits include performances at Yale Repertory Theatre, the Guthrie Theater, La Jolla Playhouse, Berkeley Repertory Theatre, Trinity Repertory Company, Spoleto Festival, American Repertory Theatre, Actors Theatre of Louisville, Alley Theatre, and Off-Broadway's New Victory Theater. He was a 1999 Fox Fellow and a 2009 McKnight Theatre Artist Fellow.
STC's Artistic Director Michael Kahn praised the work of both actors. "Not only was Carson Elrod's performance in The Heir Apparent a brilliant piece of comedic characterization, but his inventiveness and impressive improvisational ability helped shape and develop the script in many ways," Kahn said in a press release. "As Truffaldino in The Servant of Two Masters, Steven Epp was the brilliant focal point of a tremendous group of performers that revivified the tradition of commedia dell'arte for our time. He will long be remembered as one of the great Arlecchinos in a world that has been handed down and re-imagined for centuries."
October 9, 2012
If you have Shakespearean news to share, e-mail editorial@shakespeareances.com