"Our sudden encounter with homelessness forced us to ask essential questions about the values we hold most dear."
Link to the WSC Avant Bard:
WSC Avant Bard in News & Announcements:
WSC Board Selects New Artistic Director
Arlington Arts Center Evicts Company
Puppets, Lost Characters, a Devil and Dada People 2012-2013 Season Lineup
Klingons and the Wrath of Kahn
Also in Where's Will @?:
News and announcements from theaters
Links to theaters, festivals, and organizations
The Bard on The Boards: What's Playing Where
The Bard on The Boards: Where's Playing What
Web sites devoted to Shakespeare
More About Shakespeareances.com:
List of Shakespeare Productions
The Shakespeareances.com Top 40
Sponsorship and Advertising opportunities
Sign up for free weekly e-mail updates (safe, secure, spamless, and unshared)
Check out the guy behind this website at www.ericminton.com

Find additional Shakespeareances
on Facebook
WSC Avant Bard
Season Salvaged with Temporary Homes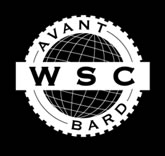 Determined to move ahead aggressively despite the recent loss of venue at Artisphere in Rosslyn, Va., WSC Avant Bard has announced plans for a revised (and extended) spring season featuring a contemporary classic, a world premiere at an area university, and a full slate of free readings produced by and starring WSC's acting company.
"Our sudden encounter with homelessness forced us to ask essential questions about the values we hold most dear," newly appointed Artistic Director Tom Prewitt said in a press release. "Values like the power of stories—boldly and innovatively told in intimate settings—that highlight the extraordinary talents of our company and guest artists."
Managing Director Kyle Jean Fisher added: "We were very lucky to get the rights to Harold Pinter's classic No Man's Land at the last minute, and we are deeply grateful to Catholic University and its legendary drama department for providing an exciting landing spot for this season's world premiere, Caesar and Dada by acclaimed local playwright Allyson Currin."
Three generations of WSC Avant Bard artistic directors converge for Pinter's play. No Man's Land features a fallen poet and his drunken dispute with a mysterious stranger over success, adventures, and romantic conquests. WSC Artistic Director Emeritus Christopher Henley teams up with his predecessor, Brian Hemmingsen, to star in this play of wit, deceit, and the battle between memory and imagination. The production will be staged by new Artistic Director Prewitt, who helmed Six Characters in Search of an Author earlier this season. No Man's Land will be performed in Arlington County's Theatre on the Run. Previews begin April 26.
WSC Avant Bard forges ahead with plans to produce Caesar and Dada, directed by Helen Hayes Award–winner Lee Mikeska Gardner. Take a step back into history to the dawn of avant-garde, and experience the inner workings of an acting troupe rehearsing Julius Caesar as they seek to challenge audience expectations and the meaning of art. Caesar and Dada will be performed at the Catholic University of America (Callan Theatre). Previews begin June 18, 2013.
The WSC acting company will produce staged readings of four works that capture classic themes and highlight its family of talent. These test-drive scripts for future seasons and a special outdoor performance of Beowulf will be presented at Lubber Run Park in Arlington on June 1.
March 25, 2013
If you have Shakespearean news to share, e-mail editorial@shakespeareances.com