BSF productions reproduce the staging conditions that Shakespeare used to produce his plays on the Elizabethan stages of the 1590s.
Link for the Baltimore Shakespeare Factory:
www.baltimoreshakespearefactory.org
The Baltimore Shakespeare Factory in Shakespeare News:
Company Delivers Sonnet-Gram Valentines
Raw Errors Scheduled for Fringe; OP Merchant Planned for Spring
Camps Put Kids in King's Men Mode
Also in Where's Will @?:
News and announcements from theaters
Links to theaters, festivals, and organizations
The Bard on The Boards: What's Playing Where
The Bard on The Boards: Where's Playing What
Web sites devoted to Shakespeare
More About Shakespeareances.com:
List of Shakespeare Productions
The Shakespeareances.com Top 40
Sponsorship and Advertising opportunities
Sign up for free weekly e-mail updates (safe, secure, spamless, and unshared)
Check out the guy behind this website at www.ericminton.com

Find additional Shakespeareances
on Facebook
Baltimore Shakespeare Factory
Four "Greatest Hits" Make Up 2013 Playbill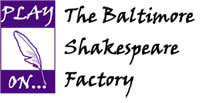 Star-crossed lovers, a tragically tortured mind, mixed-up love and fairy magic, and a sorcerer's storm of vengeance will all come to life this year in the hands of the Baltimore Shakespeare Factory.
Beginning April 6 and running through December, the company will tackle William Shakespeare's Romeo and Juliet, Hamlet, A Midsummer Night's Dream, and The Tempest. Baltimore Shakespeare Factory will also continue its December tradition of staging a holiday show with its production of The Nutcracker as an original holiday panto.
"As we approach the 400th anniversary of Shakespeare's death in 2016, the Baltimore Shakespeare Factory wants to bring Baltimore audiences the best of Shakespeare—and these four plays can certainly be considered among Shakespeare's greatest hits," said Artistic Director Tom Delise in a press release.
Romeo and Juliet opens the season with an April 6–27 run at The Great Hall Theatre at St. Mary's. Hamlet will play at the same location July 12–14 before moving outdoors in the Meadow at the Evergreen Library and Museum, July 18–Aug. 4. Guests are welcome to picnic on the lawn prior to and during the show. A Midsummer Night's Dream follows, first at Evergreen, August 2–18, before moving to the Elizabethan-style stage at St. Mary's for its final weekend, August 23–25. Shakespeare's final masterpiece, The Tempest, runs Nov. 8–17 at St. Mary's and will be the company's third annual actor-ensemble-directed production, in which the troupe of actors open the show after only a few hours of rehearsal and no director.
The Baltimore Shakespeare Factory (BSF) is dedicated to bringing the works of Shakespeare to life for audiences of all ages and backgrounds. In Shakespeare's time (1564–1616), the theater was accessible to everyone, and BSF prides itself on continuing that tradition by presenting professional quality work at affordable prices.
BSF productions reproduce the staging conditions that Shakespeare used to produce his plays on the Elizabethan stages of the 1590s. Productions use universal lighting, allowing the actors to see and interact with the audience. Just as Shakespeare's actors would have entertained audiences with the songs of the day, BSF actors perform modern music (thematically related to the show) prior to the show and during intermission. BSF also makes liberal use of cross-gender casting as a nod to the conventions of the Elizabethan stage. Productions regularly feature women playing the parts of men and men playing the parts of women.
After spending several years as a touring company without a permanent venue, the Shakespeare Factory is now proud to be at home in Baltimore producing five shows a season. BSF also actively partners with local businesses. Adoptable dogs from the Baltimore Humane Society are featured in each show (City Paper recognized BSF's use of adoptable animals in its 2012 Best of Baltimore issue), and local wine and beer are served at every show. BSF also continues to expand its outreach into the community, offering programs in local schools and libraries, as well as extensive summer camp programs for local elementary, middle, and high school students.
Tickets for Baltimore Shakespeare Factory productions are available online at: theshakespearefactory.com, or by calling 410-921-WILL (9455). Tickets are $20 for adults, $15 for students and seniors.
March 3, 2013
If you have Shakespearean news to share, e-mail editorial@shakespeareances.com