"Yes, there will be errors—more than the ones Shakespeare intended—but that's kind of the point."
Link for the Baltimore Shakespeare Factory:
www.baltimoreshakespearefactory.org
The Baltimore Shakespeare Factory in Shakespeare News:
Company Delivers Sonnet-Gram Valentines
Four "Greatest Hits" Make Up 2013 Playbill
Camps Put Kids in King's Men Mode
Also in Where's Will @?:
News and announcements from theaters
Links to theaters, festivals, and organizations
The Bard on The Boards: What's Playing Where
The Bard on The Boards: Where's Playing What
Web sites devoted to Shakespeare
More About Shakespeareances.com:
List of Shakespeare Productions
The Shakespeareances.com Top 40
Sponsorship and Advertising opportunities
Sign up for free weekly e-mail updates (safe, secure, spamless, and unshared)
Check out the guy behind this website at www.ericminton.com

Find additional Shakespeareances
on Facebook
Baltimore Shakespeare Factory
Raw Errors Scheduled for Fringe;
OP Merchant Planned for Spring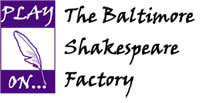 The Baltimore Shakespeare Factory will open a production of William Shakespeare's Comedy of Errors on Nov. 7 in conjunction with the Charm City Fringe Festival. Nevertheless, the production has no director or costume designer, nor has the 10-actor company had a single rehearsal.
"Things are right on track!" notes an e-mail the company sent to its patrons.
The Comedy of Errors, running Nov. 7–Dec. 21 at The Great Hall Theatre at St. Mary's will be the latest installment in the company's series of original practice productions in which the actors, sans director, will meet for just a few hours of rehearsals before the play opens.
"Yes, there will be errors—more than the ones Shakespeare intended—but that's kind of the point," the company e-mail continues. "Our core philosophy at Baltimore Shakespeare Factory is to recreate, as closely as possible, the staging conditions that would have been used in Shakespeare's own time and theaters. Actors in London in the late 1500s had a matter of days to learn and produce a play, and rarely had more than a stage, a few costumes, and their own bravado to work with. Comedy is the perfect play for this experiment."
For those moments when cast members "screw up, jumble our lines, or break character," audience members will be invited to throw tomatoes at the stage; foam versions will be available at the theater for $5 per bag.
As part of the Charm City Fringe program, admission for the opening weekend of the run will be only $10 per person, half the usual ticket price. Performances are 7:30 p.m. Fridays and Saturdays, and 2 p.m. Sundays at St. Mary's Community Center, 3900 Roland Ave., Baltimore, Md., with preshow entertainment beginning 30 minutes before. Tickets are available by calling 410-921-9455, via e-mail at box.office@TheShakespeareFactory.com, or online at http://factorycomedy.brownpapertickets.com/. The last three Sunday matinees, Dec. 7–21, will be staged at Boordy Vineyards, 12820 Long Green Pike, Hydes, Md. Reservations for these shows must be booked directly through Boordy Vineyards at 410-592-5015. Tickets for all shows after opening weekend are $20; $15 for students, teachers, and seniors; free for children grade 5 and under.
Though the company has used original practice techniques for some of its productions in the past few years, 2015 will mark the Baltimore Shakespeare Factory's venturing into an OP of a different sort: an Original Pronunciation of The Merchant of Venice next spring. This will be the first time modern audiences will be able to hear Merchant performed in Early Modern English. Noted OP experts Ben and David Crystal have been enlisted to coach the Baltimore Shakespeare Factory actors.
October 29, 2014
If you have Shakespearean news to share, e-mail editorial@shakespeareances.com