"This one-year position will allow her to grow as a community builder in one of Canada's largest theater hotspots."
Link to the Company of Fools:
Link to Shakespeare in Action:
A Company of Fools in Shakespeare News:
Falstaff Highlights 10th Torchlight Tour
Also in Where's Will @?:
News and announcements from theaters
Links to theaters, festivals, and organizations
The Bard on The Boards: What's Playing Where
The Bard on The Boards: Where's Playing What
Web sites devoted to Shakespeare
More About Shakespeareances.com:
List of Shakespeare Productions
The Shakespeareances.com Top 40
Sponsorship and Advertising opportunities
Sign up for free weekly e-mail updates (safe, secure, spamless, and unshared)
Check out the guy behind this website at www.ericminton.com

Find additional Shakespeareances
on Facebook
A Company of Fools Theatre
Artistic Director Steps Aside for Year to Help
Shakespeare in Action Move Into New Space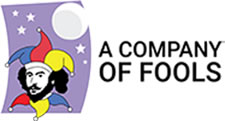 Catriona Leger has stepped back from her role as artistic director of Ottawa's A Company of Fools this year to work with Shakespeare in Action as that organization moves into the role of resident theater company for the new Artscape Weston Common in northwest Toronto.
A Company of Fools, Ottawa's longest-standing Shakespearean theater company, is looking for an interim artistic director for the year.
"We're very proud of the work Catriona has done to develop this Company over the past three years in particular, and we're excited about her new opportunity in Toronto," Fools Board Chair Kathryn McLaren said in a company press release. "This one-year position will allow her to grow as a community builder in one of Canada's largest theater hotspots."
Artscape Weston Common will be a community cultural hub comprising an indoor programming space, an outdoor programming space, and affordable housing for artists. It will transform ground floor space in the podium of an existing high-rise apartment building as part of a larger development by the Rockport Group, which will also see the addition of approximately 350 new rental homes to the site.
The community cultural hub will include the following.
An indoor programming space of approximately 8,200 square feet that will be operated by Artscape. The community cultural hub's indoor spaces will provide a venue for public arts programming and space for not-for-profit arts, cultural, and community organizations.
An adjacent outdoor programming space of about 12,400 square feet that will be programmed by Artscape as well as its tenants and program partners. It will serve as a community gathering place, including the Weston Farmers' Market.
26 affordable housing units, managed by Artscape, for artist-led families.
Artscape will be the facility operator and will have legal and financial responsibility for the operations of Artscape Weston Common. Last year, Artscape announced Shakespeare in Action along with UrbanArts as program partners for the community cultural hub.

Toronto-based Shakespeare in Action produces touring shows, including Shakespeare Meets Hip Hop, and offers various workshops and residencies. With a permanent home, the company intends to host a variety of expanded educational programs, provide performing arts training to youth, and curate Weston's first professional season of theater, music, and dance.
Leger first collaborated with a Company of Fools in 2000, performing in the precursor to the company's current Torchlight Shakespeare series, The Merchant of Venusin Strathcona Park and Double Bill: Shakespeare's Dead and Foolius Caesar. Since then, Leger has performed in and directed several Fools productions, including A Midsummer's Night Dream, Pericles, Comedy of Errors, The Merry Wives of Windsor, As You Like It, Antony and Cleopatra, Shakespeare's Interactive Circus, and Shakespeare's Danish Play. She took the helm as artistic director in 2015.
"The Fools have provided me with some of the most meaningful experiences of my professional career," Leger said in the release. "And I am excited at the opportunity to bring some of what I have learned here to Shakespeare in Action."
Leger will continue to work with the Fools in a consulting role. Applying 18 years of Fools experience, she will advise a new interim artistic director, as well as current Fools staff members, Keith Jackson and Nicholas Leno.
"Catriona is a dear friend to the Fools and a wealth of institutional knowledge," says McLaren. "We know that our interim artistic director and the whole Fools team will benefit from her consultation."
The interim artistic director will be responsible for carrying out the Fools' already planned 2019 season, including summer's Torchlight Shakespeare in the park performances, as well as implementing 2020's 30th anniversary season.
February 13, 2019
If you have Shakespearean news to share, e-mail editorial@shakespeareances.com