A Company of Fools Theatre
Falstaff Highlights 10th Torchlight Tour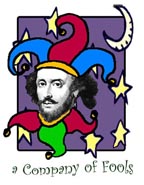 The Ottowa, Ontario–based Company of Fools Theatre will focus on Falstaff in its 10th anniversary Torchlight Shakespeare Season with productions of The Merry Wives of Windsor and an adaptation of William Shakespeare's second tetralogy into one play called Hal & Falstaff.
Adapted and Directed by Catriona Leger, The Merry Wives of Windsor will feature a cast of six actors. Matthew John Lundvall will play Falstaff; Simon Bradshaw, John Doucet, Melanie Karin, Geoff McBride and Katie Ryerson will be featured in a myriad of roles.
Keeping with Torchlight tradition, The Merry Wives of Windsor will open its seven-week tour at Strathcona Park on July 3, which will also be declared A Company of Fools Day in an official proclamation by Mayor Jim Watson. As in previous years, performances will take place in Strathcona Park every Monday night of the run.
This marks the 10th anniversary season for Torchlight Shakespeare. Established in 1990 by a group of students in the University of Ottawa's theater department, A Company of Fools is Ottawa's oldest professional Shakespeare company, modeled after the rogue Elizabethan players who once entertained audiences out of doors and at London's Globe Theatre. The Fools have built a reputation as a highly physical troupe, doing interactive shows, both indoors and out, in Ottawa and across Canada, and employing some of the city's finest theater professionals. In 2003, the Fools created its signature event, the annual Torchlight Shakespeare series, which makes Shakespeare accessible by taking it out of the theater and into neighborhood parks each summer. In an effort to make great theatre available to everyone regardless of economic background, admittance to Torchlight Shakespeare shows is always by pass-the-hat, pay-what-you-can donations.
To further celebrate its 10th anniversary, the company is adding a second show, dubbed Torchlight Too, called Hal & Falstaff, an adaptation of Henry IV Parts One and Two. with bits of Henry V and Richard II thrown in. Adapted and directed by the company's founder, Margo MacDonald, the production features the same six actors. It will tour to three different indoor venues from Sept. 2–22. Tickets will again be by pay-what-you-can donation, though audiences have the option to guarantee admittance by booking ahead on Eventbrite.ca for $20 per person.
Audience sizes for the Torchlight Shakespeare can top 500 people, so early arrival is suggested. Bring a lawn chair or blanket to sit on, bug spray, and a sense of humor. Pay-what-you-can donations are collected at the end of the performance and can be submitted in the form of cash or check.
Merry Wives touring schedule
July 3, Strathcona Park
July 4, Bedford Park
July 5, Central Park
July 6, Central Park
July 8, Strathcona Park
July 9, Oxford Mills
July 10, Glabar Park
July 11, MERA - McDonald's Corners
July 12, Pushman Park
July 13, Alexander Grove, Stitsville
July 15, Strathcona Park
July 16, Hiawatha Park
July 17, Appleford
July 18, La Grange, Wakefield
July 19, Windsor Park/Old Ottawa South
July 20, New Edinburg Park
July 22, Strathcona Park
July 23, Dickenson Sq, Manotick
July 24, Centrepointe Park
July 25, Centrepointe Park
July 26, Hintonburg Park
July 27, Hintonburg Park
July 29, Strathcona Park
July 30, Cecil Morrison Park
July 31, Briargreen Park
Aug, 1, Weston Park
Aug. 2, Richelieu Park, Vanier
Aug, 3, Claudette Cain Park
Aug, 5, Strathcona Park
Aug, 6, Clare Gardens
Aug, 7, Heritage Park, Orleans
Aug, 8, Lynwood Park
Aug, 9, Walter Baker Park
Aug, 10, Primrose Park
Aug, 12, Strathcona Park
Aug, 13, Greenlawn Park
Aug, 14, Mooneys Bay Area E
Aug, 15, Herb Garden, Almonte
Aug, 16, Andrew Haydon - Site C
Aug, 17, Windsor Park
July 1, 2013
If you have Shakespearean news to share, e-mail editorial@shakespeareances.com