"When I was a kid, I never thought that anyone cared about my story, let alone would want to perform it."
Link to The Laboratory Theater of Florida:
www.laboratorytheaterflorida.com
Other stories on The Lab Theater in Shakespeare News:
Improv Pro Offers Workshops for Teens
Theater Offers Classes for Seniors, Spirituality
Theater Classes from Auditions to Improv
Christmas Break Camp, Winter Classes Set
Also in Where's Will @?:
News and announcements from theaters
Links to theaters, festivals, and organizations
The Bard on The Boards: What's Playing Where
The Bard on The Boards: Where's Playing What
Web sites devoted to Shakespeare
More About Shakespeareances.com:
List of Shakespeare Productions
The Shakespeareances.com Top 40
Sponsorship and Advertising opportunities
Sign up for free weekly e-mail updates (safe, secure, spamless, and unshared)
Check out the guy behind this website at www.ericminton.com

Find additional Shakespeareances
on Facebook
The Laboratory Theater of Florida
Grant Helps Lab Theater Create LGBT Project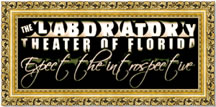 Laboratory Theater of Florida in Fort Myers has been awarded a grant by the Robert Rauschenberg Foundation with which the theater will be developing a live theatrical production to tell the stories of up to 200 local young people who identify themselves as lesbian, gay, bisexual, or transgender.
The award-winning theater will team up with Visuality Inc. on this project. Visuality offers services to LGBTQ youth in Lee County. "What a fabulous opportunity that such a small percentage of people will ever have," Visuality board member Andrew Spaulding said in a Laboratory Theater release. "When I was a kid, I never thought that anyone cared about my story, let alone would want to perform it. Me growing up it was: 'Okay, you're gay. Don't tell Grandma. Don't tell Grandpa. We don't want anyone to know.'"
The theater will work with young people aged 12–24, teaching them skills that will be used toward the development of the play: journalism, playwriting, set design and construction, acting, wigs and makeup, lighting design, costume design and construction, stage management, musical composition, and sound.
"The kids that wish to tell their stories to our interviewers may do so anonymously," Lab Theater Artistic Director Annette Trossbach said in the release. "The goal is to translate to the stage the stories, poems, short scenes that the young people share with us. We are seeking kids who want to learn journalism and interviewing skills. We are seeking kids who want to learn playwriting. We want young people to feel heard and cared for in southwest Florida. We want them to stay here and feel safe here. By getting involved in the project, they have a chance to tell their stories and to help the greater community to understand where they are coming from."
The classes will be free for participants and will meet once per week for 10 weeks each, with Journalism starting this month. For further information, contact the theater at 239-218-0481 or anonymously through visuality@laboratorytheaterflorida.com. More information will also be posted on Facebook, on The Laboratory Theater of Florida page, and on the Visuality of SW Florida page. The courses offer many ways that students can participate; they are under no obligation or expectation to be involved in the final, live theatrical performance.
June 16, 2015
If you have Shakespearean news to share, e-mail editorial@shakespeareances.com