"2015 marks the 40th Anniversary of the cult-classic film Monty Python and the Holy Grail which SPAMALOT is based on, so it felt like perfect timing."
Link for the Orlando Shakespeare Theater:
More from Orlando Shakes in Shakespeare News:
Tina Packer Presents Women of Will, Caesar
Wild West Shrew Opens Landmark Season
Shrew, Caesar, Nickleby Headline 25th Season
Patrick Stewart Headlines Special Evening
Also in Where's Will @?:
News and announcements from theaters
Links to theaters, festivals, and organizations
The Bard on The Boards: What's Playing Where
The Bard on The Boards: Where's Playing What
Web sites devoted to Shakespeare
More About Shakespeareances.com:
List of Shakespeare Productions
The Shakespeareances.com Top 40
Sponsorship and Advertising opportunities
Sign up for free weekly e-mail updates (safe, secure, spamless, and unshared)
Check out the guy behind this website at www.ericminton.com

Find additional Shakespeareances
on Facebook
Orlando Shakespeare Theater
Season Has 2 Shakespeares But a Lot of Spam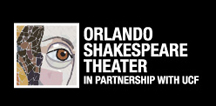 Although it only includes two Shakespeare titles, the upcoming 2015–2016 Season at the Orlando Shakespeare Theater in Partnership with UCF will feature Pericles, the first time the company has tackled the play. Keeping to the sea theme, Orlando Shakes also will stage William Shakespeare's The Tempest, but its biggest undertaking in the theater's 27th season will be Monty Python's SPAMALOT.
"After the success of Les Misérables, we're excited to kick off our Signature Series with another show-stopping musical," Managing Director PJ Albert said in a press release. "2015 marks the 40th Anniversary of the cult-classic film Monty Python and the Holy Grail which SPAMALOT is based on, so it felt like perfect timing. It was also a highly requested production based on our audience surveys." Winner of three Tony Awards, including "Best Musical," the saucy parody tells the legendary tale of King Arthur and the Knights of the Round Table on a quest for the Holy Grail. Phantom of the Opera veteran Davis Gaines returns as King Arthur, following his celebrated portrayal of Javert in 2014's Les Misérables.
In conjunction with SPAMALOT, the Season Gala will take place on Sunday, Sept. 20, at the Lowndes Shakespeare Center. Tickets for the annual fundraiser go on sale later this spring.
Keeping to its roots as a classical Shakespeare festival, the Theater will offer The Tempest and Pericles during its Classic Repertory Series in spring 2016. Audiences haven't seen the fantastical favorite The Tempest since 2002, while Pericles has never before been produced by Orlando Shakes, bringing the Theater closer to its goal of completing William Shakespeare's canon.
Following up 2014's acclaimed production of The Best of Enemies, Orlando Shakes has teamed up once again with playwright Mark St. Germain to produce another new play, Dancing Lessons. Two other contemporary plays, Vanya and Sonia and Masha and Spike (2013 Tony Award for Best Play) and Bakersfield Mist (2012 Elliot Norton Award for Best New Play), are also included in the 27th Season.
Additionally, the Theater continues its commitment to new plays with PlayFest. Scheduled for Nov. 5–8, this season's festival will once again present readings of new works by local and national playwrights. Recent projects have included plays by Israel Horovitz, Charlie Bethel, Jon Jory, Lauren Gunderson, Steve Yockey, and Mark Brown.
The 2015–2016 Children's Series includes three family-friendly productions: the updated fairy tale The Frog and the Princess; a time-traveling adventure, Magic Tree House: A Ghost Tale for Mr. Dickens; and the toe-tapping new musical Elephant and Piggie's: "We're in a Play!"
"We're thrilled to continue our partnership with Mary Pope Osborne and her beloved Magic Tree House series," Director of Education Anne Hering said in the release. "Our record-breaking production of A Night in New Orleans: A Magic Tree House Adventure entertained over 15,000 guests in 2013. We can't wait to go back in time on another adventure with Jack and Annie next season."
Single tickets to The Frog and the Princess are available for purchase starting on May 5, 2015. Single tickets to all other productions in Orlando Shakespeare Theater's 27th Season go on sale Tuesday, June 16, but subscriptions can be purchased now by calling 407-447-1700, ext. 1 or in person at the Box Office (812 East Rollins St.). Subscriptions may not currently be purchased online.
Titles and dates for the 2015–2016 season are subject to change; additional information about the season, including creative team and casting, will be announced at a later date.
Orlando Shakespeare Theater is supported by United Arts of Central Florida, host of power2give.org/centralflorida, and the collaborative Campaign for the Arts. Orlando Shakespeare Theater is also sponsored in part by the State of Florida, Department of State, Division of Cultural Affairs, and the Florida Council on Arts and Culture.
For production dates, go to Shakespeareances.com's Bard on the Boards.
February 12, 2015
If you have Shakespearean news to share, e-mail editorial@shakespeareances.com