WSC Avant Bard
Two Woman Hamlet Caps Scripts Festival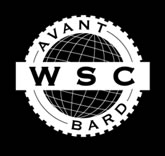 Avant Bard theater in Arlington, Virginia, is getting ready to launch the 2019 edition of its Scripts in Play Festival, the company's signature play-reading series featuring seven plays over two weekends capped by a weekend-long encore presentation of the 2018 Capital Fringe hit A Two Woman Hamlet in full production.
Since 2016, Avant Bard's Scripts in Play Festival has been a showcase and testing ground for fresh scripts with programming potential, presented by rising local professional talent. Five works have already gone from Scripts in Play readings to full production by Avant Bard: The Good Devil (in Spite of Himself); the Helen Hayes Award–nominated TAME; Emilie: La Marquise du Châtelet Defends Her Life Tonight; Illyria, or What You Will; and A Misanthrope, upcoming in spring.
"Our Scripts in Play audiences really help shape who we are as a theater company," Artistic and Executive Director Tom Prewitt said in a company press release. "We listen closely to their feedback during these tryout readings and weigh it carefully when programming our seasons. In that sense, attending Scripts in Play events can be an exciting insider experience."
Avant Bard's mission is to produce classic works, both time-tested and contemporary, and accordingly the seven works chosen for this year's festival share a common theme: "The past reprocessed, classics retooled for today."
"Scripts in Play is a great time to explore what makes an Avant Bard play, what it means to be classic," said Director of Audience Engagement Quill Nebeker, who curated this year's festival with input from a select reading team of directors and other theater artists. "So, we've paid special attention to picking plays that have engaged the past in an original and provocative way, and we're all ears to hear how they sound to our creatively curious theater lovers."
The festival kicks off Friday, Feb. 6, at 7:30 p.m. with Antigone by Matt Minnicino. Tragedy Averted by Alexandra Petri will perform on Saturday, Feb. 9, at 7:30 p.m. and Hercules in Russia by Allyson Currin rounds out the first weekend Sunday, Feb. 10, at 2 p.m.
The second weekend features Hey Darcy! A Bromantic Comedy by Amanda Quain and Rebecca Speas, Thursday, Feb. 14, 7:30 p.m.; Three Suitcases by Richard Byrne, Friday, Feb. 15, 7:30 p.m.; Adoration of Dora by Lojo Simon, Saturday, Feb. 16, 7:30 p.m.; and Ada and the Engine by Lauren Gunderson, Sunday, Feb. 17, 2 p.m.
A Two Woman Hamlet by William Shakespeare, starring Hannah Sweet and Nicola Collett, will run Feb. 22–24, 7:30 p.m. on Friday and Saturday and 2 p.m. on Sunday.
All but Adoration of Dora will be at Gunston Arts Center, Theatre Two, 2700 South Lang Street, Arlington, VA 22206. Adoration of Dora, a play about art, will be at Fred Schnider Art Gallery, 888 North Quincy Street, Arlington, VA 22203.
The seven play readings are free, no reservations required. The performances of A Two Woman Hamlet are Pay What You Will, and advance reservations are recommended through avantbard.org/tickets.
February 7, 2019
If you have Shakespearean news to share, e-mail editorial@shakespeareances.com